I hope you've got a voracious appetite ready when you head to Bintan  because all these gastronomic delights are waiting for you!
\Whether you're visiting Bintan for a fun family getaway or a romantic couple's retreat, food should be high up on the agenda. On top of being an ideal destination for resort stays and adventure activities, Bintan is actually a treasure trove of gastronomic delights!
Explore Bintan with a feisty appetite and an empty stomach, and brace yourself for non-stop FEASTING!
Here are nine yummy food hideouts that you should hunt down – inside and outside of the resorts – on your next trip to Bintan.
1. Pujasera Food Centre
Must-eat dish: nasi padang from Lamak Basamo
Pujasera is a hawker centre located about a 10-minute drive from the main ferry terminal, and is where you can get an authentic glimpse into the local food culture. The hawker centre sells a wide variety of food, all of which is incredibly delicious and unbelievably cheap! We feasted on mee goreng, maggi goreng, goreng pisang (fried bananas), nasi padang, and more. Our personal favourite would be the nasi padang from the stall 'Lamak Basamo', which has recently opened another outlet at Plaza Lagoi. You can enjoy nasi padang by picking out the main dishes you desire or choose to have your meal via the traditional nasi padang serving style, with the dishes are presented to you in the form of a buffet spread through a pay-as-you-eat system.

Our meal was also perfectly complemented with a hot cup of kopi susu (coffee with condensed milk)! One particularly dish we were helplessly addicted to was black glutinous rice, coated with flour and fried to a delicate crisp. Savoury and crunchy on the outside but chewy and sweet on the inside, the black glutinous rice was the best of both worlds. Highly recommended! Needless to say, our stomachs were extremely satisfied.
Location: Pujasera Food Centre

Address: Pujasera, Kota Sebung, Bintan Resorts, Indonesia

Opening Hours: 08:00 – 22:00
2. Rimba Jaya
Must-eat dish: fried mushrooms from the street stalls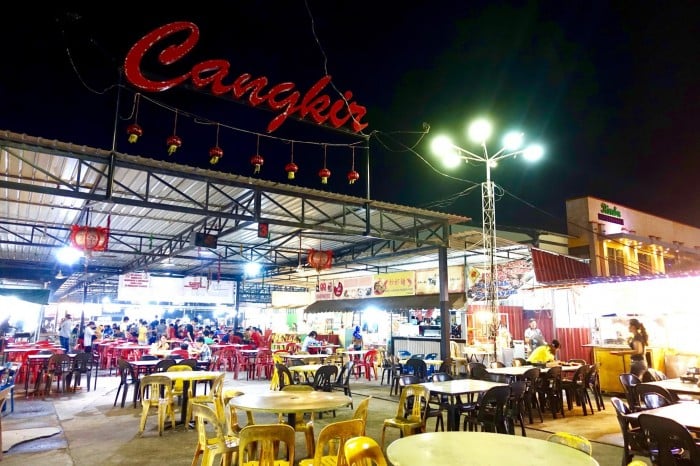 The whole of Rimba Jaya is basically  every food lover's paradise – any glutton who visits Bintan definitely has to include this location into their itinerary! It comprises a night market and a handful of delightful unique eateries and bistros.
The undisputed highlight of Rimba Jaya, however, would be the food centre for sure! A mix between a pasar malam and a hawker centre, this outdoor food centre will satisfy all your gastronomic desires. We dug into satay, goreng pisang with cheese, bak kut teh, an assorted platter filled with fried sausages and fish cakes, oyster omelette, grilled fish, grilled sotong, fried mushrooms, and fried cauliflowers! It was insane – every dish was so incredulously delicious, we just couldn't stop eating.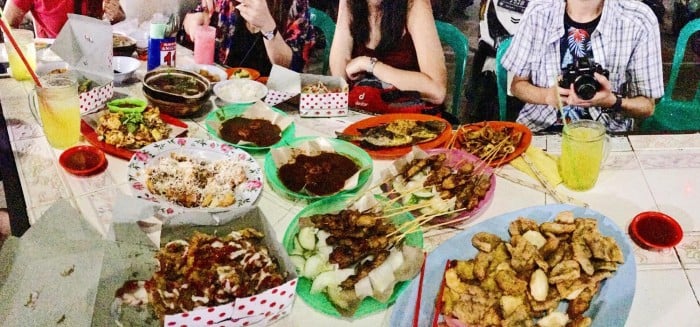 My personal favourite would be the fried mushrooms, hands down! They were so delicately crispy and just melted in my mouth with every bite. At the end of your meal, cleanse your palate with a refreshing cup of lime juice and you'll be good to go! The food centre opens from 5pm to 10pm so make sure you visit for a sumptuous dinner.

The night market is perfect for a leisurely stroll in the evening, with vendors selling fruits, other street snacks and apparels, as well as funfair games for you to indulge in. There's also a Canopy Cafe nearby which is famous for its coffee and delightful matcha latte, so if you're a matcha lover you might want to check it out! If you're craving for something sweet, there's no better place than Tomo restaurant for desserts. Tuck into a refreshing watermelon bingsu that is even bigger than your face!
If unique cocktails and playing dart games is your definition of a chill night out, then Fabrica is the place for you! Perfect for unwinding after a long day, they serve drinks, bar snacks, main courses, and even have billiard tables, dart games and drinking games to keep you entertained all night. Plus, it's decked out with rustic junkyard decorations for bonus hipster vibes. Another place elevating your hipster level to new heights would be Loco – a vibrant sunflower-yellow container style cafe that serves Taiwanese desserts, shaved ice, hotcakes, frozen yoghurt, and more! Yes, the desserts sure look sinful, but every calorie is definitely worth it.
Location: Rimba Jaya

Address: Rimba Jaya, 29136 Tanjung Pinang, Indonesia

Opening Hours: ​17:00 – 23:30​
3. Casa Italia Pizzeria
Must-eat dish: wood-fired pizza with toppings of corn & mushrooms

Casa Italia Pizzeria is located right next to Trikora Beach and offers a slice of Italy in the middle of tropical Indonesia. Run by an Italian family who fell with love with the rustic charm of Bintan and decided to stay for good, this is a truly authentic pizza dining experience! We watched wild chickens roam around the alfresco dining area as we waited in eager anticipation of our wood-fired pizzas. The best part? All their pizzas are made upon order so they're guaranteed to be fresh and piping hot!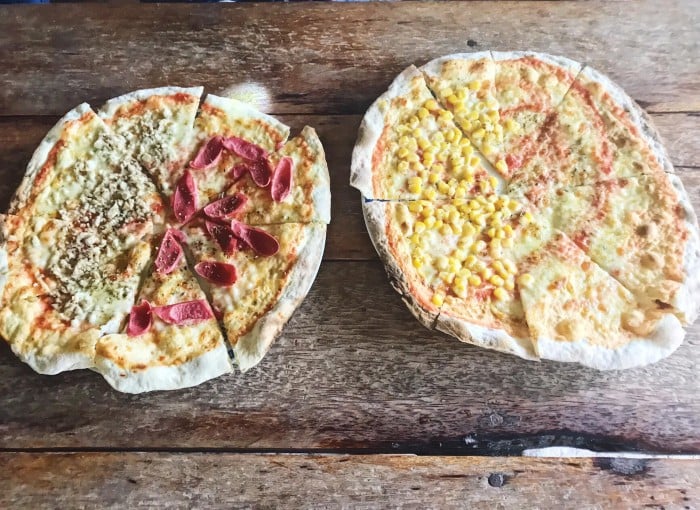 These thin crust pizzas were perfectly crispy at the edges and filled with gooey cheese – we finished them in a matter of minutes! Each pizza only costs S$6 for such a generous portion, and we were thoroughly spoilt for choice with the large variety of flavours. We finally decided on the sausage, chicken, corn, and mushroom toppings after deliberating for a long time – and boy, were they delicious!
Location: Casa Italia Pizzeria

Address: Pizzeria Casa Italia Pizza, along Trikora Beach, Teluk Dalam, Desa Malang Rapat Kec. Gunung Kijang, Bintan, Indonesia

Opening Hours: ​10:00 – 17:00​ (Closed on Mondays)
4. The Kelong Seafood Restaurant and Calypso Bar
Must-eat dish: gong gongs (sea snails)


The Calypso Floating Bar is located right next to the Kelong Seafood Restaurant and provides the perfect setting for some pre-dinner drinks. This was one of our favourite places in Bintan, where we could indulge in refreshing cocktails with an unobscured view of the sunset. If you're spoilt for choice on which cocktail to order, we highly recommend their signature Pineapple cocktail that has a fruity yet nutty flavour. Plus, it makes such an Insta-worthy prop too!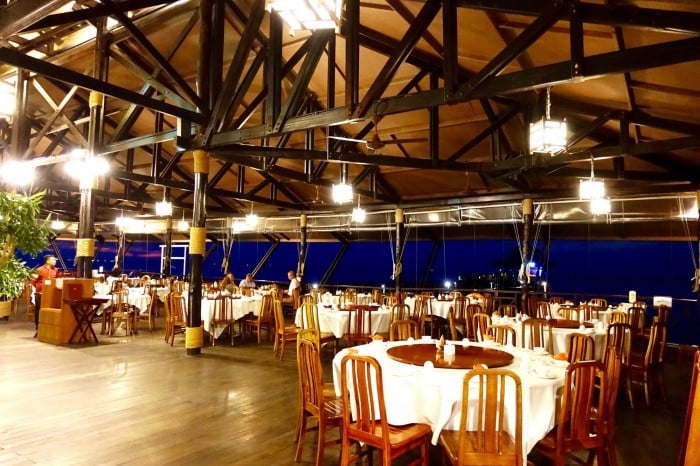 Head over to the Kelong Restaurant once dusk falls for a highly satisfying seafood meal. The restaurant's signature dishes such as stir fried butter prawns, black pepper crab and gong-gong (sea snails) are a MUST-try. The gong-gongs in particular were super addictive – we simply couldn't stop at one! The open-air seating allowed us to enjoy the balmy sea breeze and calm waves while we feasted heartily, setting the ambience for a relaxing and languid evening. Don't forget to leave a short message on the 'Crab of Fame' wall, where all messages are written on… crab shells!
Location: Nirwana Gardens

Opening Hours: 11:00 – 22:30 (The Kelong Seafood Restaurant); 17:00 – 24:00 (Calypso Bar)
5. Treetops
Must-eat dish: nasi goreng
We had the pleasure of savouring authentic Indonesian flavours at Treetops Restaurant during our trip to Bintan! With impeccable service and splendid panoramic views of the South China Sea, our dining experience at Treetops was truly amazing. For appetisers, we had free flow of Indonesian crackers and six different types of chilli spices (peanut, green chilli, mango, dark sweet sauce, sambal belachan and fried chilli) for us to mix and match! It was an enjoyable way to taste and learn more about the different spices used in Indonesian cuisine. Mini samosas which were perfectly crunchy and bursting with flavour, were also available.

The black pepper beef was juicy with strong hints of garlic and was surprisingly easy to chew on, while the grilled rabbitfish was fresh and soft. The bones of the rabbitfish have actually been removed before grilling, a fact that intrigued us to no end as the fish still retained its original shape! Their signature Nasi Goreng was extremely satisfying as well – the rice was fragrant and paired with crunchy ikan bilis, egg omelette slices, and chicken. Plus, it was such a huge portion!
Location: Banyan Tree Resort

Opening Hours: 7:00 – 22:30
6. Chop Chop, Bintan Lagoon Resort

Bintan Lagoon Resort has opened a spanking new hip restaurant called Chop Chop, which is essentially Bintan's very own Chinatown! Serving popular North Asian street food amidst brightly coloured fixtures and ceiling lanterns for that oriental touch, the entire place pulsates with a vibrant energy and atmosphere. The loud, quirky and eclectic graphic walls make extremely photo-worthy backdrops, along with distinct shophouse features and hilarious dim-sum inspired quotes like "Shumai, oh my!"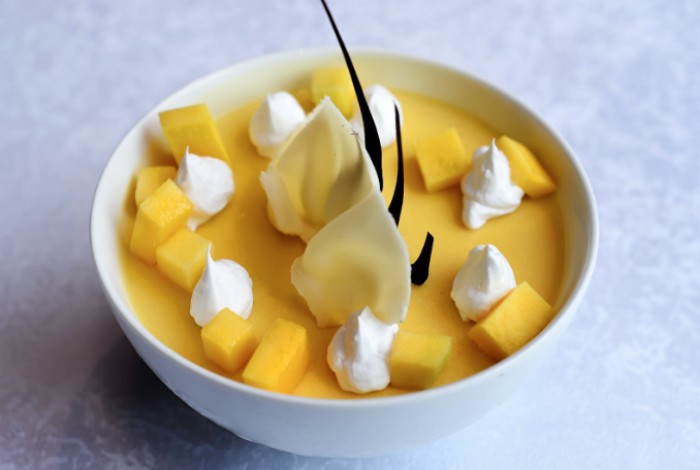 You'll be thoroughly spoilt for choice with a mouthwatering variety of steamed and fried dumplings, noodles and rice to tasty stir-fried dishes and double boiled soups! Some of the must-try dishes include the mango pudding, stir-fried sliced beef with black pepper sauce, and the taufu skin dumpling! Just take a look at that glorious bowl of mango goodness…. YUM! Unfortunately we didn't get the chance to try out these dishes but Chop Chop, we'll definitely be back for you!
Location: Bintan Lagoon Resort

Opening hours: 10:00 – 23:00
7. Natra Bintan BBQ
Must-eat dish: assorted meat skewers

Are you an avid barbeque lover? If so, the  Natra Bintan barbeque experience is perfect for you! Besides, any glamping experience is incomplete without a barbeque party, no? You can choose to order ala carte barbeque food items or set meals that are tailored for two or four pax from the restaurant. The customer service, in particular, is excellent, because they will deliver all the food items to your tent directly, and help you set up the fire as well! Just wait patiently for the food to arrive, and then you can start barbequing the food yourselves.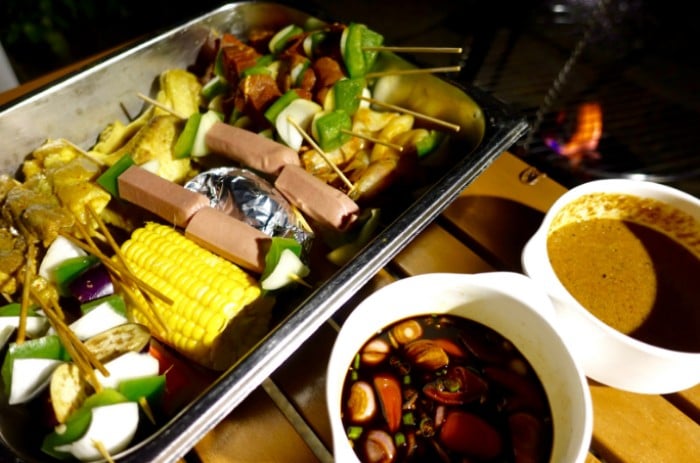 It's incredibly convenient, isn't it? We feasted on delicious grilled corn, pork, beef and lamb skewers, sausages and more! The barbeque area was also right outside our tent, so we did not have to move our butts one bit. We happily indulged in a cosy dinner, with gentle crackling sounds of the fire, and admired the glistening stars overhead in the night sky! Once we've stuffed ourselves silly, all we had to do was whatsapp the front desk and they came to clear everything for us – it's entirely fuss-free! We then retreated back into the comfort of our air-conditioned glamping tent with happy faces and full tummies.
Location: Natra Bintan
Address: Kabupaten Bintan, Kepulauan Riau 29152, Indonesia
8. Kampoeng Kelong Restaurant
Must-eat dish: black pepper crab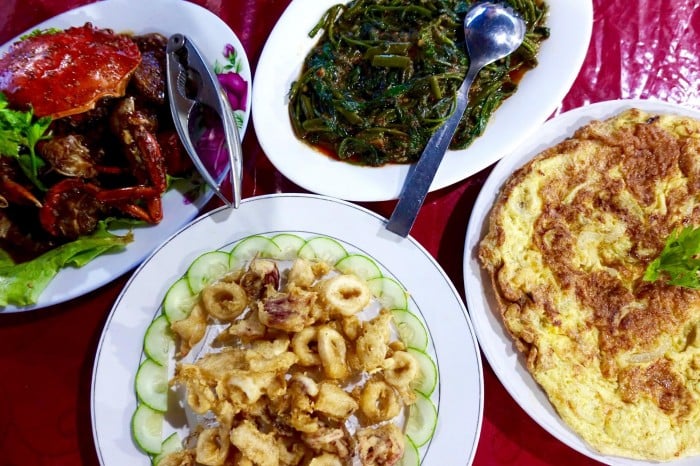 More seafood? Yes, please! If you've embarked on a mangrove tour, you can visit a nearby kelong to feast on superbly fresh seafood afterwards. That's exactly what we did, and we savoured a wide variety of dishes, inclusive of calamari, sausage omelette, sambal kang kong, minced meat with tofu, grilled fish and black pepper crab! The black pepper sauce, in particular, provided just the right amount of spiciness and kick, complementing the soft and juicy crab meat.

Plus, the scenic views from the kelong restaurant are truly a sight to behold. The lush greenery and the tranquillity of still waters were a refreshing sight to take in right before a fabulous meal! We even managed to spot blue-fin kingfishers soaring effortlessly across the skies and disappearing into the trees with the blink of an eye.
Location: Kampoeng Kelong Restaurant

Address: Sebung River, Bintan, Indonesia

Opening hours:  10:00 – 21:00
9. Ayam Presto
Must-eat dish: ayam presto (fried chicken)

Ayam Presto's signature dish is none other than the fried chicken, cooked with a special recipe till its bones are soft enough to eat! Isn't that so convenient? You can literally clean your ENTIRE meal off the plate – just like we did. Warning: the taste of the chicken is so addictive, it's almost impossible to stop at one! The skin was crispy while the juiciness was still retained in the meat. Aside from the fried chicken, you can pair your rice with an assortment of other dishes as well, such as omelette and kangkong. The most important part of the meal though, is definitely the sambal chilli! We could even pair it with plain rice alone – that's how good it was! Love these hidden gems? Make sure you venture off the beaten path and discover the unexplored side of Bintan on your next trip.
Location: Ayam Presto

Address: Bintan Buyu, Teluk Bintan, Bintan Regency, Riau Islands 29133, Indonesia

Opening Hours: 08:00 – 20:00
10. Tapai & Otak Otak along Kawal

Kawal is a fishery in Bintan, and along there you'll be able to find freshly made otak-otak as well as a unique delicacy called Tapai! Tapai is an interesting local snack, with a sweet and alcoholic taste that's unlike anything we've tasted before. It also has a very a stringent aftertaste, so you'll either like it or hate it – much like durians! But it's certainly worth a try. As for the otak-otak, the alluring fragrance of the burnt banana leaves was impossible to resist. They were perfectly grilled to a golden orange, and just melted in our mouths with every bite… We couldn't stop ourselves from eating one after another!
Are you drooling at the sight of all these mouthwatering dishes? Bintan is just an hour's ferry ride away from Singapore, so you don't have to travel too far to sample these delicious dishes!
All information is correct at time of publication.