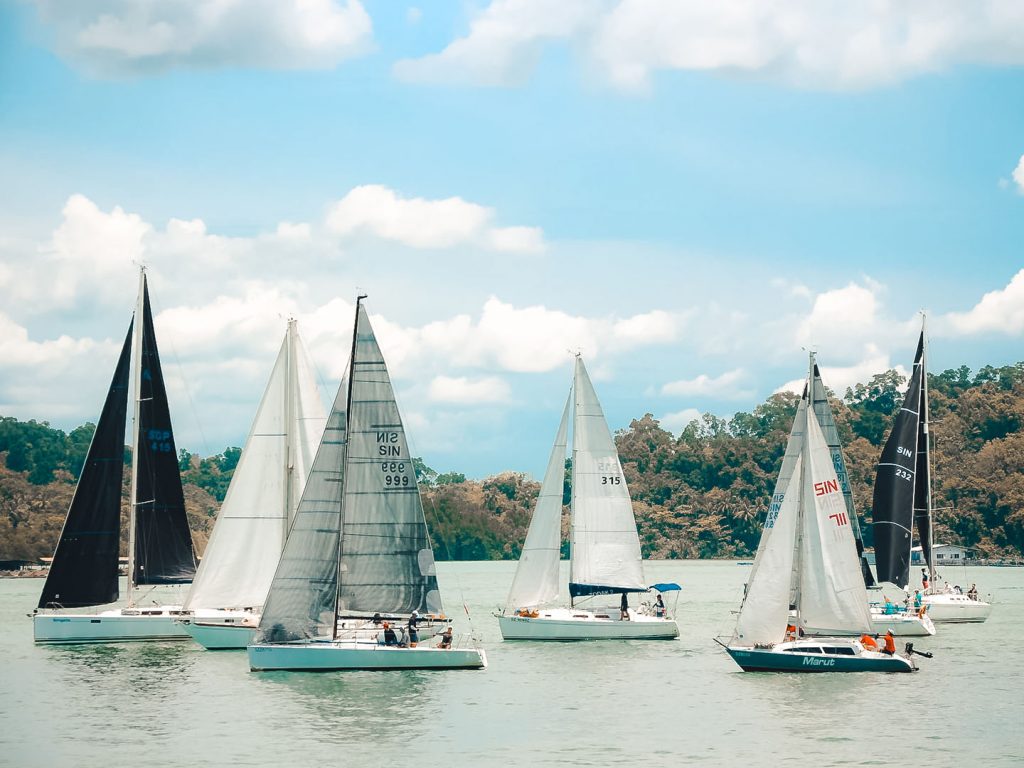 Sail away as Bintan Resorts and Changi Sailing Club (CSC) will conduct the very first sailing championship "Bintan Regatta". Bintan Regatta is set to direct three categories of races, which are Keelboat IRC, PY, and Multihull.
In the spirit of Bintan Resorts ambitions to become a leading maritime tourist destination to all sailors internationally, Abdul Wahab–Bintan Resorts Cakrawala Group General Manager–has partnered up with Changi Sailing Club Singapore to invite six Skipper's from all over the world to compete in Bintan Resorts' very first Regatta Sailing championship with an International Rating Certificate (IRC) system and standard.
Originally founded in 1936, Changi Sailing Club Singapore was formed by a group of British soldiers from the Royal Engineers stationed in Singapore before World War II. However, as of today, the club has developed full amenities including food and beverage, a swimming pool, and chalets. With a long-standing history in holding prestigious and successful sailing championships, events, and gatherings, CSC is one of the oldest sailing clubs in Southeast Asia, having successfully recruited around 600+ active members.
Situated in Lagoi Bay Beach, the area fits perfectly into the sports scheme as the bay area is home to strong waves and winds, especially during this time of the year, which is the monsoon season.
The event is led by Choy Yi Hong as the Principal Race Officer with Joe Chan as the International Jury. In addition, the committees will also be accompanied by Edwin Low as the race officer/Capt SkyBird and Dali, Hafiz, and Kamal as the OPS.
Attended by six different Skippers (Boat Captain), the six boats will carry a total of 38 participants from all over the world. The respective participants are: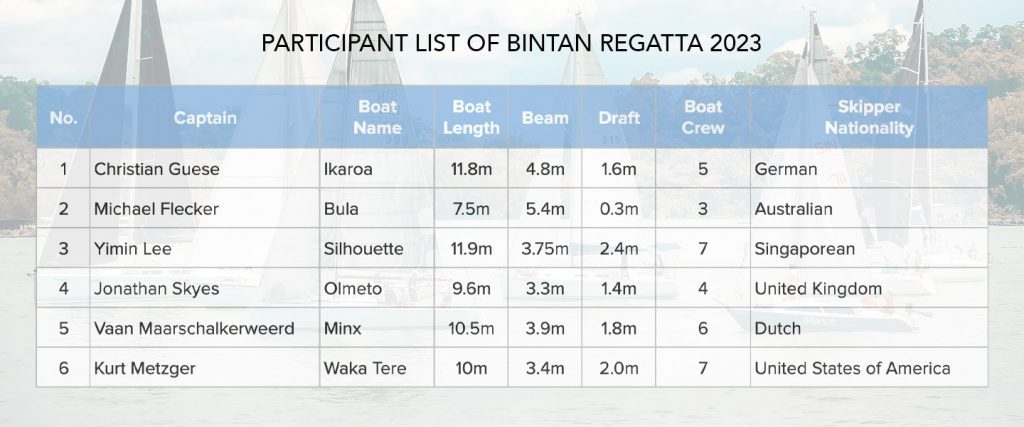 With a total of six official and scored races for the Series and 3 races scheduled each day, with no limit of the number of races that may be sailed during the time of the competition. This competition allows spectators to watch these skippers compete free of charge.
As for the prize, Bintan Resorts has prepared a rolling trophy for each category's champion. It is a one of a kind locally crafted trophy made out of fish bone by Riau Island fish sculpting artisans. On top of that, there will be additional four trophies sponsored by Grand Lagoi Hotel by Willson for the champions and Keelboat IRC Runner up.
Bintan Resorts has also invited several Riau Regency's important figures such as the Head of Riau Islands Tourism Office, Head of Bintan Island Tourism Office and Bintan Regent to spectate the competition as well as attend the opening and closing gala dinner.
The Gala Dinner will be held in Grand Lagoi Hotel by Willson's very own Bar7 and Infinity Pool area. This is the second official sporting gala dinner event the hotel has ever conducted, right after they partnered with Bintan Resorts as the official host for Tour de Bintan's gala dinner. The dinner will be accompanied with a buffet consisting of a variety of local cuisine to an international delicacies menu.
Riau Islands Tourism Office has also sponsored the gala dinners with a bunch of cultural shows such as Tari Pesembahan, Orkes Melayu, and Joget Dangkong. Additionally, they are also set to showcase a colorful small boat (Perahu Jong)–a well-known traditional Riau Island sport–free of charge for all spectators to participate!
Hourly Schedule
Friday, Jan 27th, 2023.
10:00

Depart CSC
15:00

Arrive at BBT, Bintan
18:00

Welcome Dinner
Saturday, Jan 28th, 2023.
09:00

Skipper's Briefing
12:00

Racing

(Race 1, 2 & 3)
Sunday, Jan 29th, 2023.
12:00

Racing

(Race 4, 5 & 6)
18:00

Prize Award & Closing

Prize award presentation and Closing Party
Monday, 30th, 2023