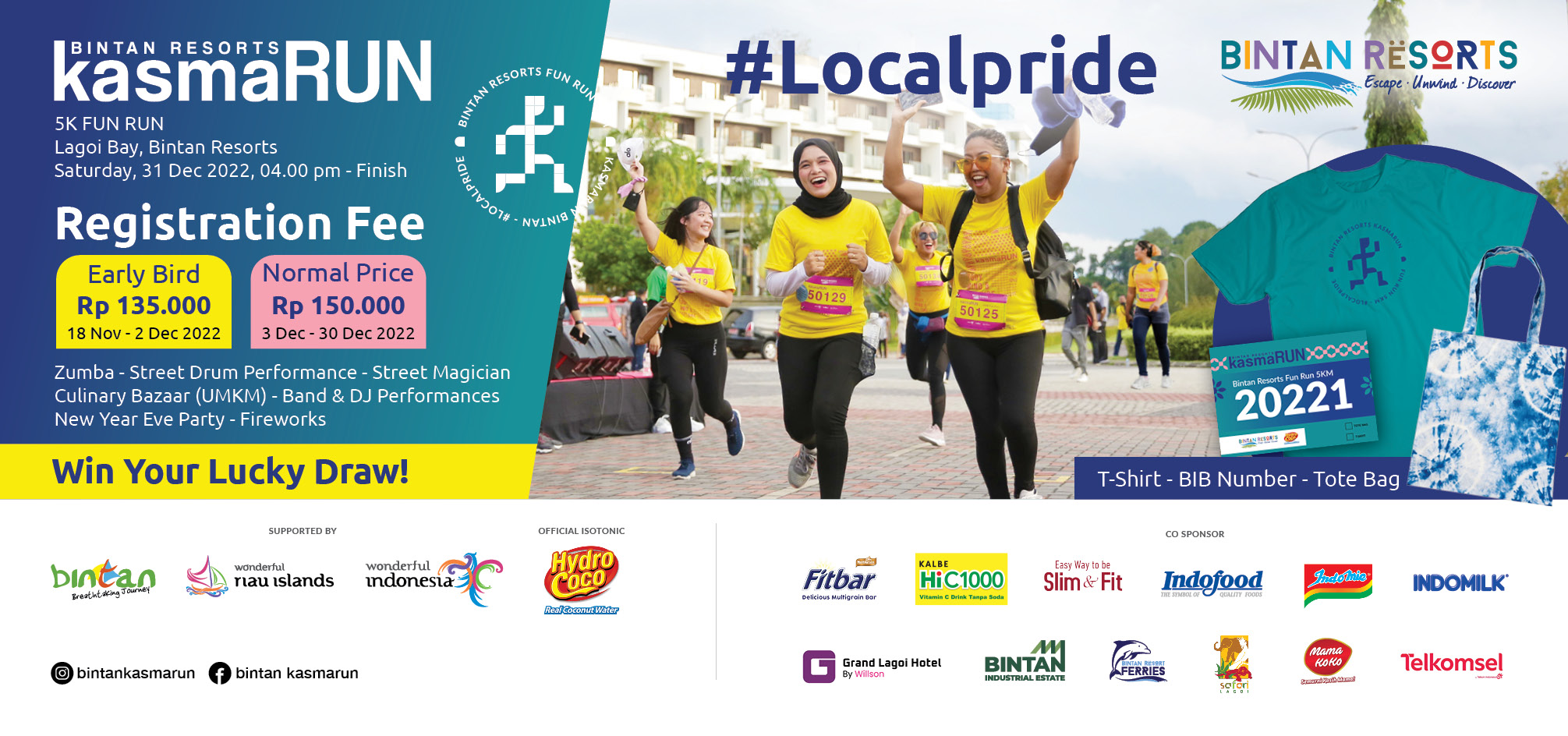 Let's celebrate New Year's Eve by joining the 5KM Fun Run Bintan Resorts KasmaRUN with the theme #LOCALPRIDE (Proud of local products).
This year, Bintan Resorts kasmaRUN invites participants to get to know and love local products better. This event will be held on Saturday, 31 December 2022 at Lagoi Bay, Bintan Resorts!
Register now and get a chance to win dozens of exciting Lucky Draws! Enlivened with stage entertainment from Music Bands and DJs, as well as Fireworks performances.
Hourly Schedule
Rundown Event
09:00

-

14:00

Race Pack Collection

Participants are required to pick up the Race Pack at this time located at Plaza Lagoi.
14:00

-

18:00

Bag Deposit
15:30

-

16:00

Opening

Runner's interaction and flag off
17:30

Cut off for the running
17:00

-

18:30

Zuma & Street Drum Performance (Busking)
18:30

-

20:00

Entertainment

Band Performance, Street Magician, and individual dinner at Kampong Peranakan (Bazaar)
20:00

-

21:00

DJ Performance
21:00

-

23:00

Band Performance
23:00

-

00:00

Performance & Countdown

DJ Perfomance and Countdown by MC for Firework Show.
This event is open to the public and is an event of the Organizer.
The series of events will be held on the date listed on the official account. Participants are those who get slots through registration results and have gone through the payment verification process by the organizing committee (Participants).
Participants are required to follow and implement every event terms and conditions set by the organizer, including those delivered and/or announced separately by any media, after participants have confirmed their participation.
The Operator will not be responsible for costs, expenses, or losses of any kind, caused by the following:
Congenital disease;
Accident while participating in the Event;
Loss and/or damage to each other's personal property while participating in the Event and/or
Diseases due to infection with the Covid-19 virus while participating in the Event.
The event is only open to Indonesian citizens and foreign.
Event Participants must be thirteen (13) years old on the day of the event (listed on the official account).
Participants who are under thirteen (13) years old on the day of the event must submit a parental consent letter. The parental consent form can be informed at the organizer's official contact.
Participants are encouraged to consult a doctor if participants have doubts about their health conditions before participating in the fun run.
Although an active lifestyle during pregnancy is recommended, the committee requires pregnant women to report pregnancy conditions and submit a doctor's letter and sign a statement letter before participating in the event or at least one (1) week before the fun run via email.
Participants must not block/disturb the fun run by not obeying the instructions from the organizers and/or officers. Violation of these rules may be grounds for disqualifying a participant from the race.
The Participant expressly and exclusively grants the organizer and assignee an irrevocable right to use the name, likeness, biography, whether factual or otherwise, in connection with the production, distribution and publication of images, photographs, and other intellectual property rights related to Events, worldwide, on any and all devices, media or publications.
Copyrights and other intellectual property rights (if any) from pictures, photos, articles, time records, and location information covering the Event, and their use rights for TV broadcasts, newspapers, magazines, internet, and other media or publications belong to the organizers . Such use also includes, but is not limited to, the name and other personal information such as the age and address (country, province and city) of the Participant.
Other matters related to the terms and conditions of participation in the Event can be changed and added at any time by the organizer. These changes and/or additions will be informed to participants by the organizer.
In the event of events beyond human control (force majeure) including but not limited to conditions of war (whether declared or not) work strikes, fires, accidents, violence, social unrest, mass riots, sabotage, epidemics, pandemics, restrictions on community activities , natural disasters such as earthquakes and floods, changes in government regulations and/or policies, embargoes, legal reasons, or other matters beyond the control of the organizers that make this Event unenforceable, then the participant understands that he cannot file a claim against organizer to provide compensation for all losses that arise as a result of the occurrence of the force majeure event and/or non-implementation of the Event.
If the event is canceled due to force majeure reasons, the organizer is not obliged to refund the registration fee that has been paid by the participant.