Eat and drink your way through the Indonesian island by embarking on a gastronomical adventure.
Ask any avid traveler and this will ring true—the best travels are shaped by the food you eat along the way. After all, the culinary delights of any destination reveal much about its cultural backdrop and heritage. When at Bintan, diners will be truly spoilt for choice as the island offers a rich selection of cuisines influenced by Malay, Chinese, and Indian cultures.
Kick start your gastronomical adventure by enjoying some fresh seafood, which is readily available on the island thanks to its surrounding seas. Built on a wooden structure above the water, The Kelong Seafood Restaurant of Nirwana Gardens is a choice dining establishment for fresh seafood and local delicacies such as the gonggong (sea snail), a rich and savory marine mollusk.
At Banyan Tree Bintan, Treetops offers a menu of exquisitely prepared Indonesian dishes including the satisfying ikan bakar (grilled fish).
Another dish worth trying is the rendang, a spicy stewed beef dish cooked with coconut milk which topped the World's 50 Most Delicious Foods list on an online poll by CNN in 2011. It can be ordered at Lamak Basamo and Warung Yeah!, both located a stone's throw away from Plaza Lagoi. The latter also serves affordable Indonesia fare such as Indomie fried noodles.
For something with a crunch, try ayam presto, a chicken dish cooked with a secret blend of herbs and spices, then subsequently fried to a crisp.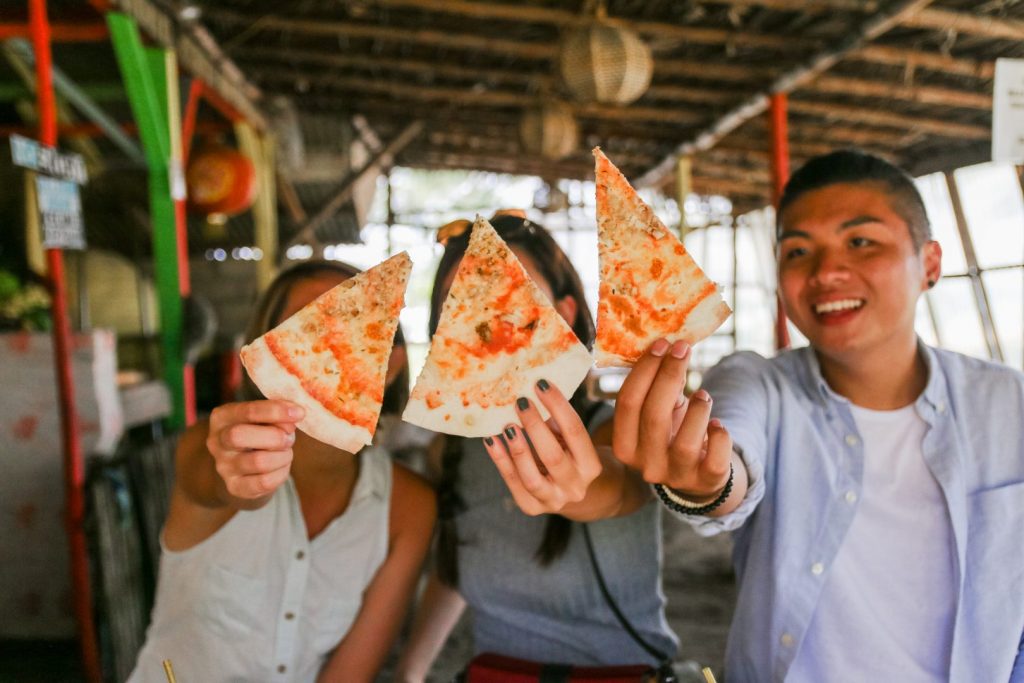 Visitors can also embark on a food hunt for Pizzeria Casa Italia, which is tucked away in the east coast of Bintan along Trikora beach.
This idyllic establishment by an Italian family serves traditional as well as localized wood-fired pizzas with crispy thin crusts. Popular flavours include the Pizza Jagung (corn) and Pizza Ayam (chicken).
Those feeling adventurous can try the tapai (ta-peh), a snack made from fermented cassava in teak leaves, produced by the Sudanest people (the original tribe in West Java). The soft and mildly sweet snack tastes of rum, with a slight hint of sourness. We recommend heading to Kawal for one of the best tapai-s on the island. Another local favorite is otak-otak­, a well-seasoned and grilled fishcake wrapped in banana leaves.
Caffeine lovers will have a field day exploring Bintan as coffeehouses are aplenty. When at Kedai Kopi Hawaii, be sure to try their signature coffee, which comes with hints of caramel and coconut. For takeaways, coffee is stored in a glass bottle to retain heat for a longer period of time.
At sunset, visit the food haven of Rimba Jaya, home to a hawker center, night market, bar, cafes and even a Japanese restaurant. The food stalls purvey grilled seafood, satay, martabak (Indonesia sweet pancake) and hawker fare such as oyster omelet, bak kut teh (pork ribs soup), and wok-fried radish cake.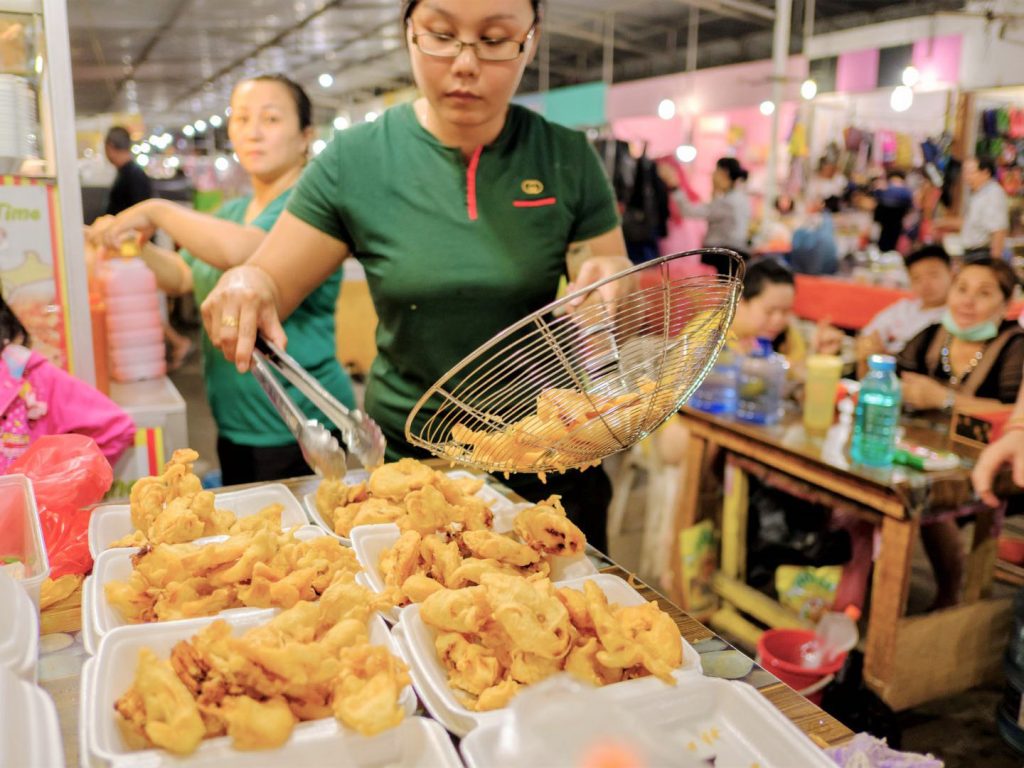 Fancy café hopping? Check out LOCO Café for Taiwanese shaved-ice desserts before heading to the mural-filled Canopy Café. Finally, drop by Fabrica Bar & Eatery for a fun night of snacks, drinks, darts, and pool games.
Those who prefer dining in the comfort of their resort can opt for XANA Beach Club at Angsana Bintan's barbecue buffet or enjoy tipples at the Sunset Bar of Holiday Villa Pantai Indah. Sip a cocktail by the setting sun and soak in picturesque views of the calming ocean to mark the end of a perfect day.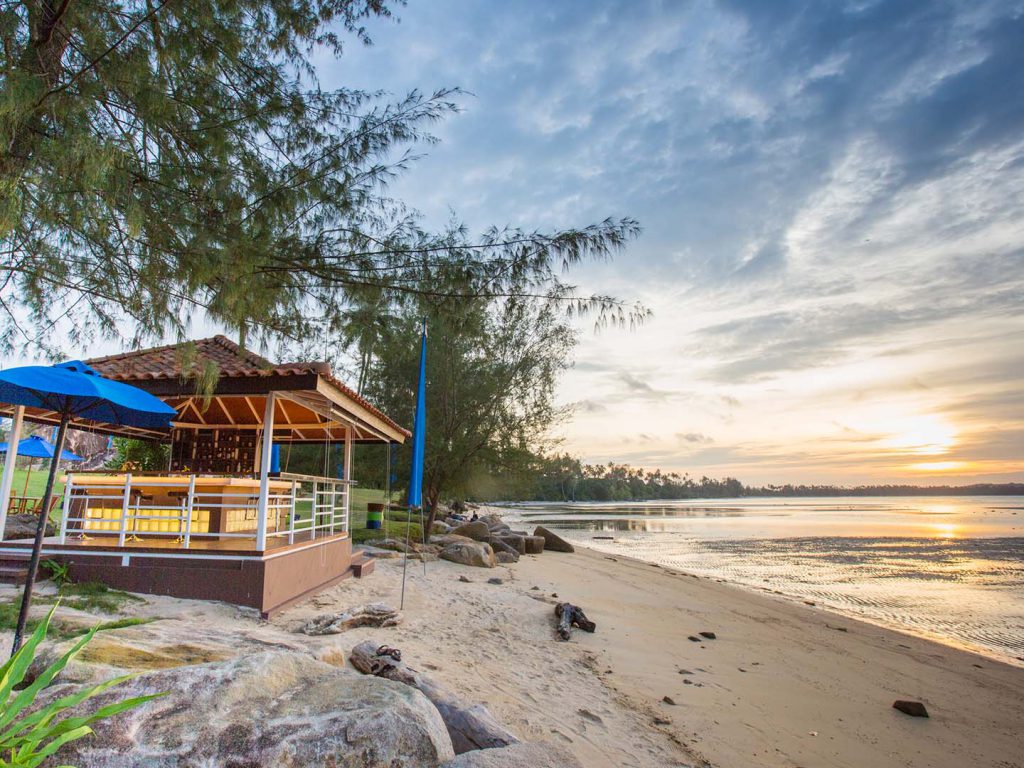 Experiencing Bintan from a gastronomical standpoint is a great way to understand the cultural diversity of the island. We recommend keeping an open mind when it comes to exploring the different flavors that the island has to offer. Who knows what culinary surprises you'll find around the bend?
This article was originally published on http://www.destinasian.com.
All information is correct at time of publication.