Here's an itinerary to help you make the most of your visit to Bintan, from nature expeditions to cultural activities.
With land space that measures up to 2.5 times bigger than Singapore, Bintan island is a tropical paradise that will keep you occupied for days.
As such, exploring the island requires a well-planned itinerary to help make the best of your time, whether you prefer soaking up the sun or experiencing the local culture.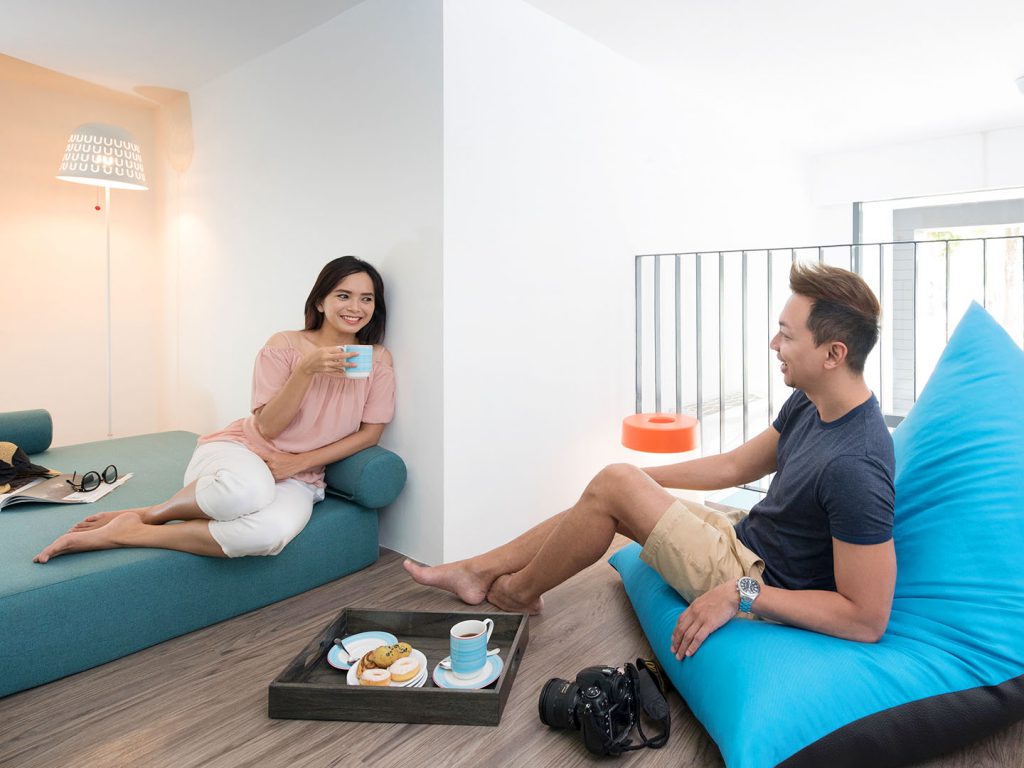 Inside a two-bedroom garden apartment at Cassia Bintan.
Day 1
12:00-14:00
Upon arrival at Bandar Bentan Telani Ferry Terminal, kickstart your holiday by checking into your choice of accommodation in Bintan Resorts. Here, guests will be spoilt for choice by the array of resorts, from the family-friendly Nirwana Gardens, to the 'glamping' tents of Natra bintan and not forgetting, the newly opened Cassia Bintan.
After settling down, grab lunch at one of the many dining venues nearby. Treat your taste buds to authentic Indonesian dishes at Banyan Tree Bintan's Treetops restaurants or sample handmade noodles at Neydles House in Nirwana Gardens.
14:00-18:00
Explore the grounds of the resort and embark on activities like leisurely swims, ninebot tours (two-wheeler personal transportation device), yoga sessions, water sports, and rejuvenating spa treatments.
Families with little ones should make a beeline for Safari Lagoi, which offers the opportunity to see some of Indonesia's endangered and rescued animals such as the sun bears, Komodo dragons, and orangutans.
At Lagoi Bay Love Lock
18:00-21:00
Perched at the end of a wooden bridge, the Calypso Floating Bar at Nirwana Gardens makes a great hangout for good music, cocktails, and sunset views. For dinner, seafood lovers can head to The Kelong Seafood Restaurant for fresh local favorites such as the gonggong (sea snail), black pepper crab, and butter prawns.
For delectable and affordable local dishes, hop on the shuttle bus from the resort to Plaza Lagoi mall to dine at Warung Yeah! After dinner, make your way up the stairs to the newly opened Yeah! Lounge for some drinks in Instagram-worthy settings. Also located near the premise is Lamak Basamo, which is famous for its Nasi Padang and especially the rendang dish—a spicy beef meat slow-cooked in coconut milk and spices. The rendang dish once topped CNN's World's 50 Most Delicious Foods list.
Lagoi Bay Lantern Park.
Thereafter, visit the Lagoi Bay Lantern Park, a stone's throw away from Plaza Lagoi, to admire a vibrant lantern showcase featuring Indonesia's endangered animals and underwater creatures.
Otherwise, join a guided mangrove tour where you can witness the magical glow of fireflies while cruising down the Sebung River.
Day 2
08:00-11:30
Begin your second day by venturing out of the resorts to meet the legendary orang laut (sea gypsies) tribe and discover their unique way of life. This native tribe inhabits the Panglong Village, a small complex of stilt houses over the waters. Even until today, they continue to embrace traditional ways of living, such as making their own fishing nets and building their own boats.
Then, drive to Trikora Coast Point 4, the infamous eastern coastline of Bintan island, where you can enjoy a brief dip in the dreamy blue waters or cool down with a fresh coconut after a stroll along the pristine beaches.
A 10-minute drive away lies the Grotto Santa Maria (Santa Maria Cave), a sacred Catholic site that is said to be built by a French priest in the 1960s. Follow the meandering trail brings you through the 14 Stations of the Cross, which also leads to a quaint chapel beside the Maria Cave. Word has it that newer parts of this site are completed by refugees from Vietnam.
Amid the Stations of the Cross at Grotto Santa Maria, on a hillside above Bintan's east coast.
11:30-12:30
For a change of scenery, visit the grand Vihara Ksitigarbha Bodhisattva Temple, also known as 500 Lohan Temple, and be greeted by rows of life-like stone arhats. Try spotting familiar Chinese characters such as Guan Gong from Romance of the Three Kingdoms.
12:30-13:30
Head further down south to the traditional pasar pagi (morning market) of Tanjung Pinang, the capital of Bintan and the Riau Islands, and soak in the hustle and bustle as you stock up on affordable dried seafood, browse through colorful trinkets and chat with friendly locals.
13:30-15:00
Make your way to the famed Nasi Padang chain—Sederhana Masakan Padang for lunch, where you'll be spoilt for choice by the variety of dishes displayed in classic 'hidang' style. Alternatively, proceed to Aulia Restaurant on Jl.MT Haryono Road to taste one of Bintan's signature dishes, sup ikan (fish soup). Consisting of large chunks of fish submerged in a savory and flavorful broth, this dish especially delicious when enjoyed with a hot plate of white rice.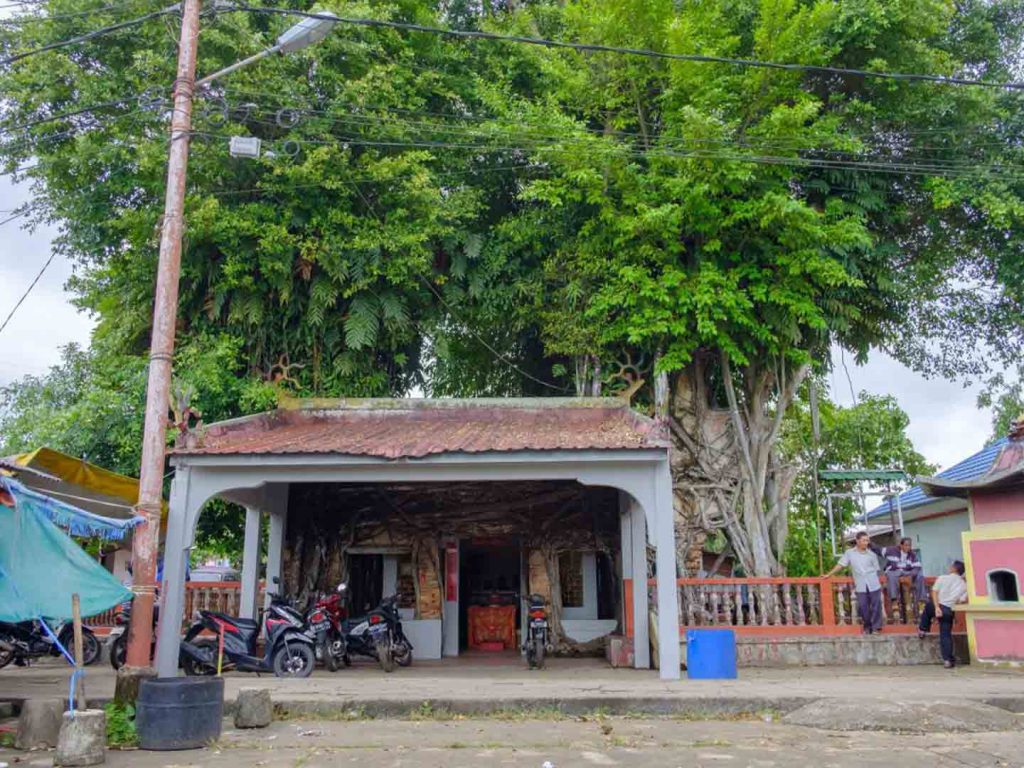 Banyan Tree Temple in Senggarang Village.
15:00-18:00
Take a 10-minute pompong (water taxi) ride from Tanjung Pinang to Pulau Penyengat, an island that was once home to the royal families of the Malay kingdom and the seat of power during the last reign of the Riau-Lingga Sultanate. The small island illustrates the crucial role of Bintan in history. Upon arrival, hop onto a becak(motorized trishaw) and visit historical sites like royal mausoleums, palace ruins, and old Dutch forts. Finally, check out the majestic Sultan of Riau's Grand Mosque, said to be the 'Jewel of the Island'.
Continue the pompong ride to Senggarang Village, which is believed to be the first home for ethnic Chinese immigrants hundreds of years ago. Be awed by the stunning sight of the Banyan Tree Temple engulfed by the twisting roots of ancient trees.
18:00-20:00
After a long day, feast to your heart's content at Rimba Jaya, a night market and food haven with street food, a hawker center, specialty cafes, and even a Japanese-Korean fusion restaurant. The fried banana fritters doused in condensed milk, chocolate sauce and a generous topping of grated cheese is definitely worth the calories.
Exploring the former bauxite mine of Gurun Pasir Busung.
Day 3
08:00-09:00
Tuck into an early breakfast at the resort and make the most of your last day in this tropical paradise.
09:00-12:00
Finally, head southeast to the photogenic Telaga Biru to capture some last memories. If time permits, try out adrenaline-pumping water sports at Crystal Lagoon, a 6.3-hectare, man-made lagoon filled with seawater filtered to a crystal-clear standard.
Alternatively, make a trip to Gurun Pasir Busung (Bintan 'Desert') and Telaga Biru in Tanjung Uban to capture some last memories. A bauxite mine turned tourist attraction, this popular photo spot features an undulating landscape of sand dunes and turquoise ponds.
12:00-16:00
Book a later ferry on your last day and head to Plaza Lagoi for lunch after you check out from your resort. Squeeze in some time for a relaxing massage, do some last-minute souvenir shopping or simply take a stroll on the Lagoi Beach. Satisfy those coffee cravings at Loliloso Café while you start making plans for your next Bintan getaway.
This article was originally published on http://www.destinasian.com.
All information is correct at time of publication.