As the mundane and back-to-back routines started to resurface in 2023, our body, mind, and soul needs of tranquility prevailed more and more. If that's the case, avoid an exhausting itinerary and instead navigate to a stress-free getaway to an ultimate healing retreat.
Start the ultimate health and wellness retreat and reset your burned-out self to a new sense of clarity from our lists of Bintan Resorts' wellness retreats in 2023 you must try.
Tranquility from Private Spaces
Withdraw yourself from the frenetic big city lifestyle to a humbling symphony of nature. From the gently-blowing ocean breeze, bright sunshine, to fresh air quality, it's time for you to transform your burnout self and find your true purpose without distractions from the outside world. In doing so, you can refresh, renew and restore your sense of peace, clarity, and balance by composing yourself to Bintan Resorts' very own undisturbed private villas.
Pamper into a sedative experience of being isolated within vast natural beauty and choose the one that best fits your ideal retreats from these Bintan Resorts Private Villa!
Pantai Indah Lagoi Bintan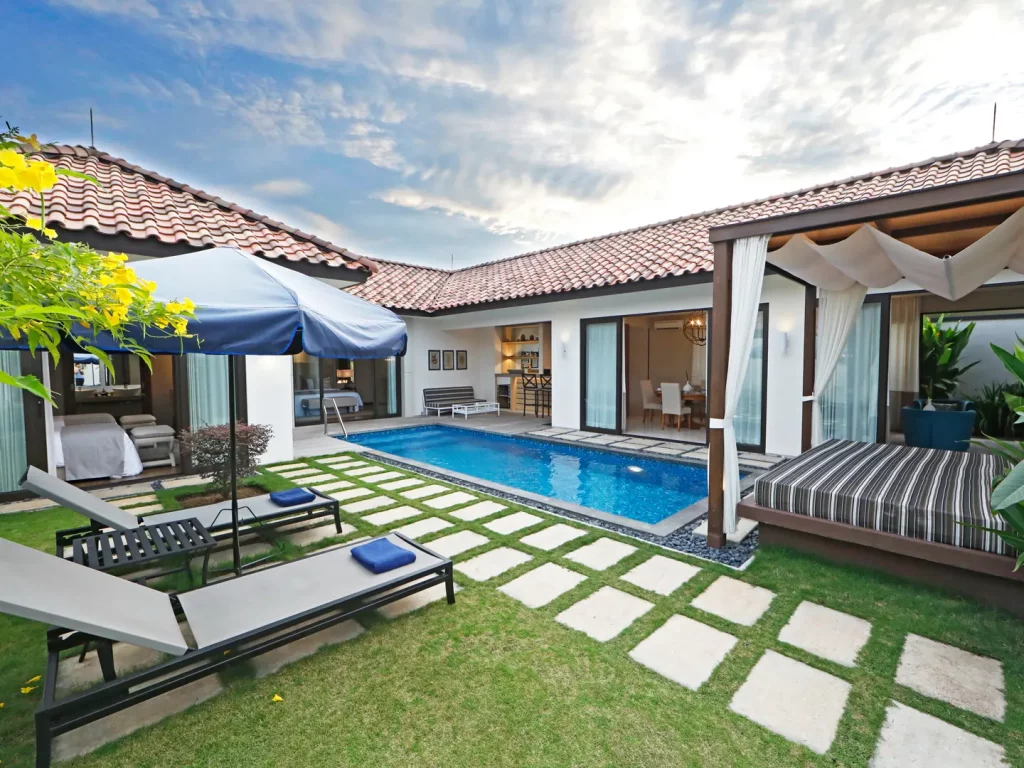 Set sail to the luxurious and tropical retreat that nestled in the eastern quarter of the beautiful Lagoi Bay. Pantai Indah Lagoi Bintan provides a paradisal beach view embellished with modern comfort.
Enjoy a breathtaking view of three small islands with abundant marine life for snorkelling and scuba diving enthusiasts to enjoy as you indulge in a bright warm-toned villa with airy private pool villa.
Inspired by traditional Balinese architecture and contemporary touches, start ornamenting your tired soul with the tranquil and elegant view from Pantai Indah Lagoi Bintan private villa and experience various self-releasing activities such as fine dining and spa treatment alone or together with your loved ones.
Kamuela Villas Lagoi Bay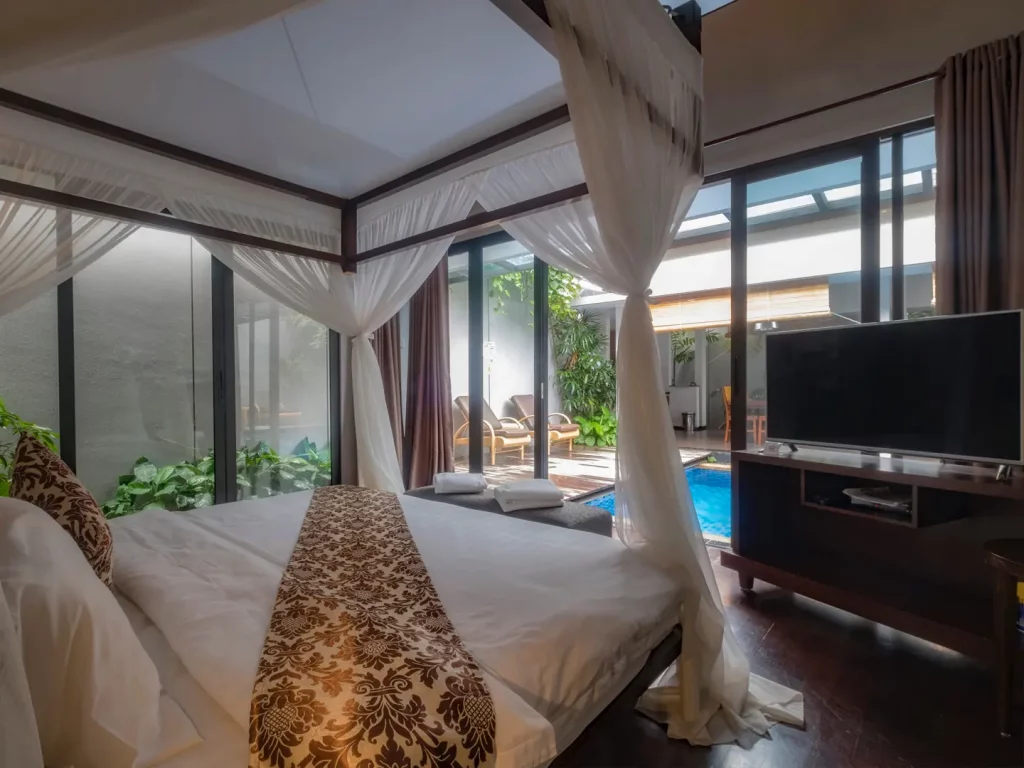 Plan your most relaxing and be in the safest place far from the claustrophobic confines of city life by detoxing mentally and physically in the deep lush forest view at Kamuela Villas Lagoi Bay. Experience a private sanctum that highly regards your personal space with custom furnishing and an expansive sundeck complete with your own swimming pool.
From its personalized service to distinctive design, you should worry-no-less for a soothing alone time for your wellness journey!
The wooden roof and calming gray-ish painted villa, along with the seemingly-lit lights will help you create the warmth and welcoming ambience that fit best for your secluded retreat!
Wellbeing Sanctuary in Yoga and Meditation
Create healing magic by transforming your unique ability to evoke, awake, and transform to the most purified version of yourself.
Concentrate as you stretch and meditate through a series of programs that explores your physical wellbeing along with a deep dive into your unconscious to reveal the real you.
Here is the list of yoga and meditation activities to help you start a wellbeing sanctuary to release the old you and embark on a new journey with the new you!
Banyan Tree Bintan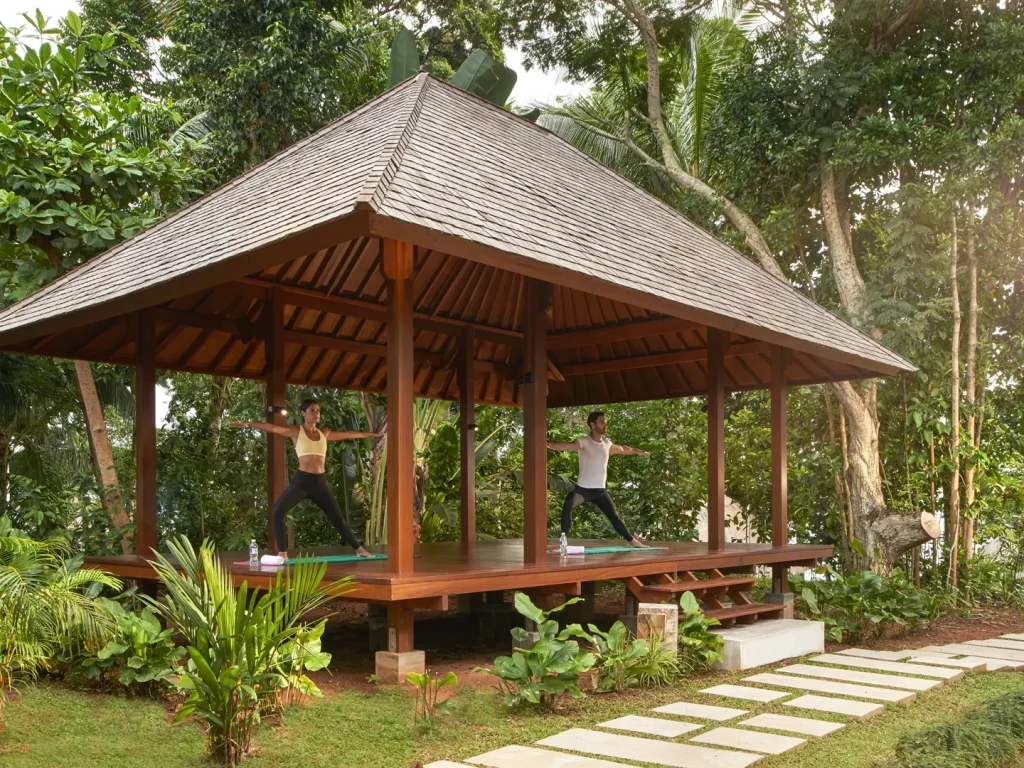 Nestled among lush forest with an infinite view of the glimmering sea infused with tangerine-ish reflection of the sun, lies the Wellbeing Ocean Villa on the rock to become a sanctuary for your wellbeing journey.
With plentiful lists of nature based activities, interactive workshops, mental wellbeing learning paths, and reflection journals to elevate your physical and mental resilience, this villa should best fit your ideal retreat to connect with yourself as well as the nature.
With a wide range of amenities, professional mentors, and private wellbeing practice, you should be able to tailor a wellness retreat experience the way you desire in a stress-free way!
The ANMON Resort Bintan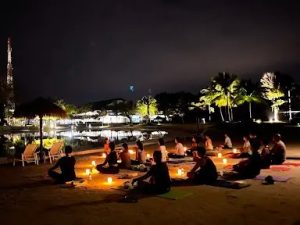 Distance yourself to a transcendental yoga quest under the heat of the desert in a perfect base signature teepee-style tents, at the ANMON Resort Bintan, a glamping resort resided just by the shore of the record breaking Treasure Bay Bintan. Unite yourself with likeminded community to a never-ending discovery and self-beauty under the unbounded spaciousness of a clear, starry night sky.
With a series of quests such as Hatha Essentials, Morning Vinyasa, and Evening Yin throughout the journey, you'll have your wellness retreat from your modern life occupied with a fully immersive yoga adventure.
Unveil the beauty within you by heightening the awareness of our minds and body through personal practice, customized tips, and different styles of yoga on the shore of sparkling treasure bay and the incandescent view of ANMON.
Mind, Body, and Soul Treatment in SPA
Wellness treatments that are sure to touch your body, mind, and soul in a serene environment.
Let explore to your true potential in these Bintan Resorts' healing spa retreats!
Anindya Spa — Mayang Sari Beach Resort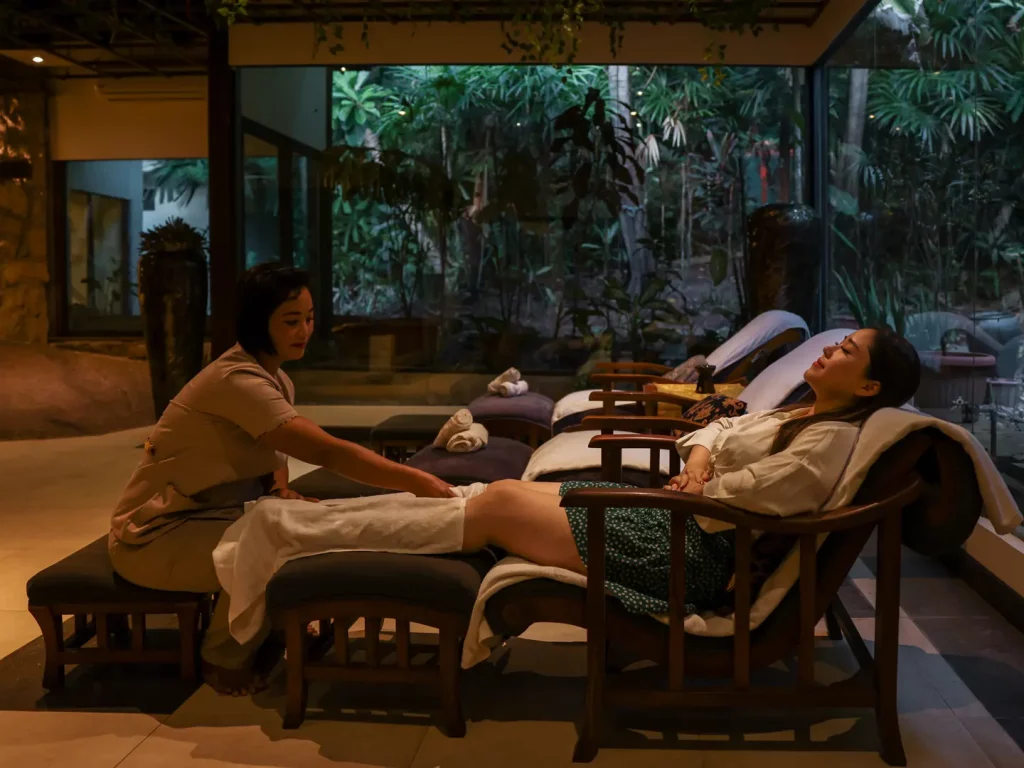 Derived from ancient Sanskrit, Anindya Spa–perfect beauty–by the very own Mayang Sari Beach Resort, will take you on a journey to harmonize your mind, body, and spirit through holistic healing.
With special technique in combination of Indonesian Heritage formula from various regions to the utilization of herbs and essential oils curated from all over the Indonesian archipelago, this Healing retreat will give you one-of-a-kind experience with the true traditional Indonesian beauty treatment.
This spa ritual authenticates your longed need of relaxation with a trip to an oasis of beauty, tranquility, and grace.
The Sanchaya Spa
The Sanchaya Spa is located in and surrounded by a lush tropical garden, inspired by local cultures, traditions, and customs using natural organic products indigenous to South East Asia. This retreat aims to nurture and celebrate the unique beauty of each individual.
By tapping the uniquely tailored artisan approach, lovingly luxurious crafts, and high-performance products, this wellness retreat will heal blockages and uncover the depths of your consciousness and uncover a new sense of purity and radiance.
Also read out "Top 5 Relaxing Bintan Spa Experiences That We Miss!" for more soothing and relaxing experience Bintan Resorts Spa have to offer!