Hop back onto the joyous Bintan resorts' 2023 Chinese Lunar New Year Celebration public holiday event as we learned the new meaning of 2023. With over 7.000 visitors during the CNY 2023 week, the Plaza Lagoi, alongside other resorts, has organized various events and activities for visitors to enjoy.
Here's a quick recap of what happened during the 2023 Chinese New Year Celebration in Bintan Resorts!
Events
Located just beside Lagoi Bay Beach, Plaza Lagoi is home to festivities and wide open space where you can leisurely enjoy precious time together with your family, friends, or your loved one.
During the Chinese New Year's weekend, Plaza Lagoi has successfully hosted one of the biggest CNY celebration events in Bintan Island, ALL FREE OF CHARGE!
RED is celebrated and it never looked any better!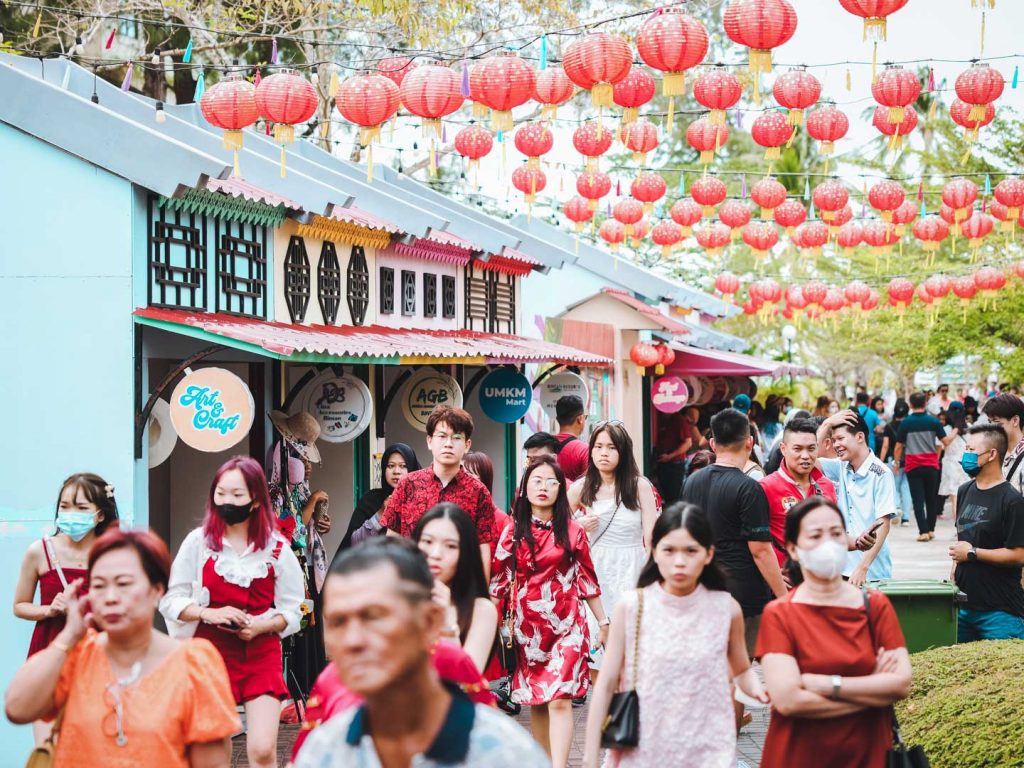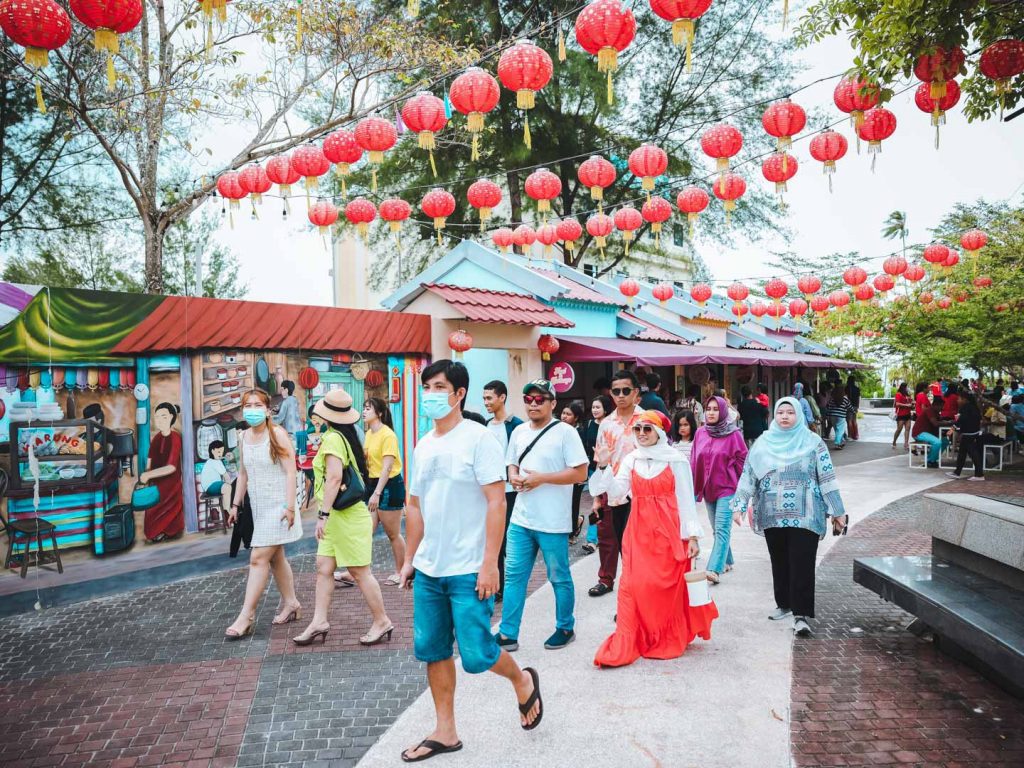 The plaza is decorated with visitors strutting their best red outfits, dozens of luminous bright red lanterns along with adorable rabbit-related decorations, perfect for tourists who want to take the perfect picture for the gram!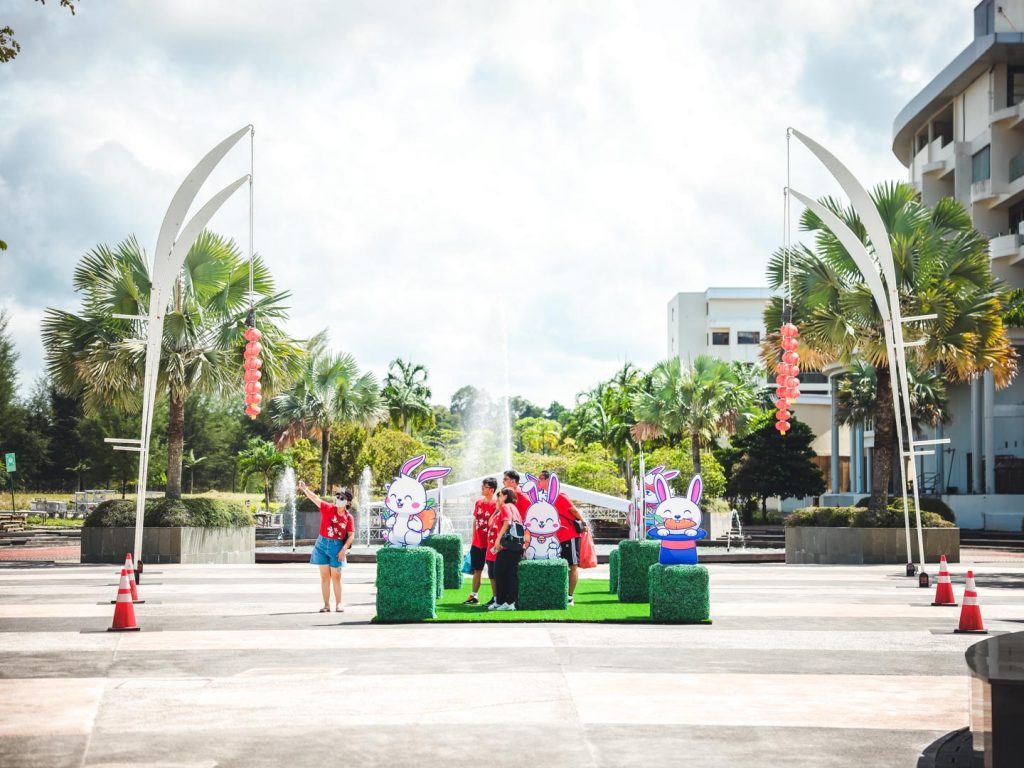 Fancy showing off your talent in front of live audiences?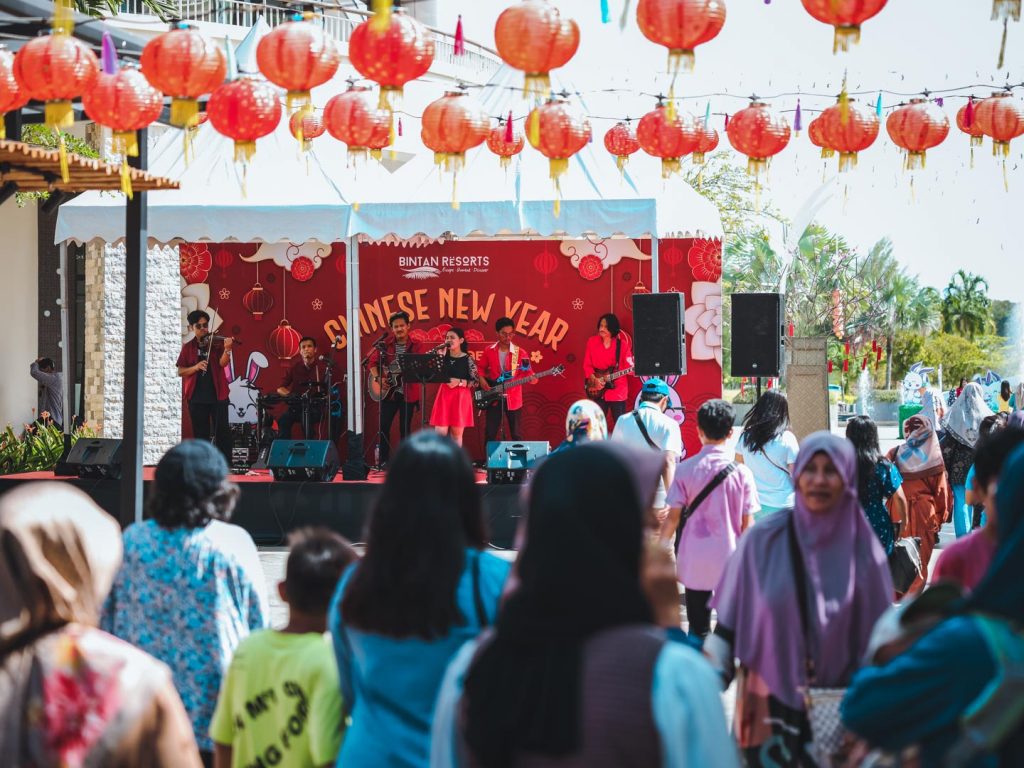 Bintan resorts, too, invited talented young artists from the heart of Bintan Island to entertain the audiences and best yet, collaborated with them.
The excitement doesn't stop there! Feastful dinners, live shows to DJ performances have also taken place in some of the resorts who happened to participate in the joyful celebration of Chinese New Year!
Firecracker, Lion and Dragon Dance
Be stunned by the lively firecracker as we celebrated the year of fortune and prosperity in this year of the rabbit. As a part of the CNY 2023 Celebration essentials you wouldn't want to miss this once in a lifetime experience of mind-boggling firecrackers.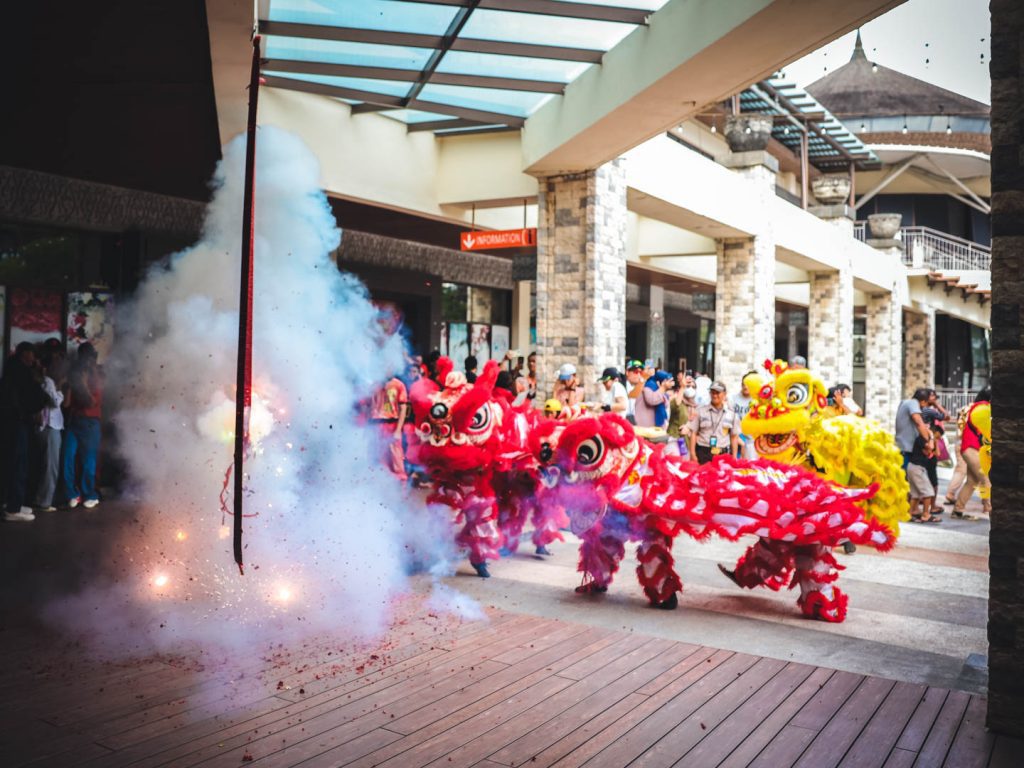 Performed in color coordinated costumes, these yellow and red lions fused with traditional Chinese Dragon dance, were surely astounded our visitors away. These professional and well-trained dancers exhibited thrilling stunts and acrobatic martial arts that will leave you wanting for more.
In addition to that, our visitors have also enjoyed a soothing, yet gripping music of beating drums, clashing cymbals, and resounding gongs that elevated the nobility of the performances to the next level.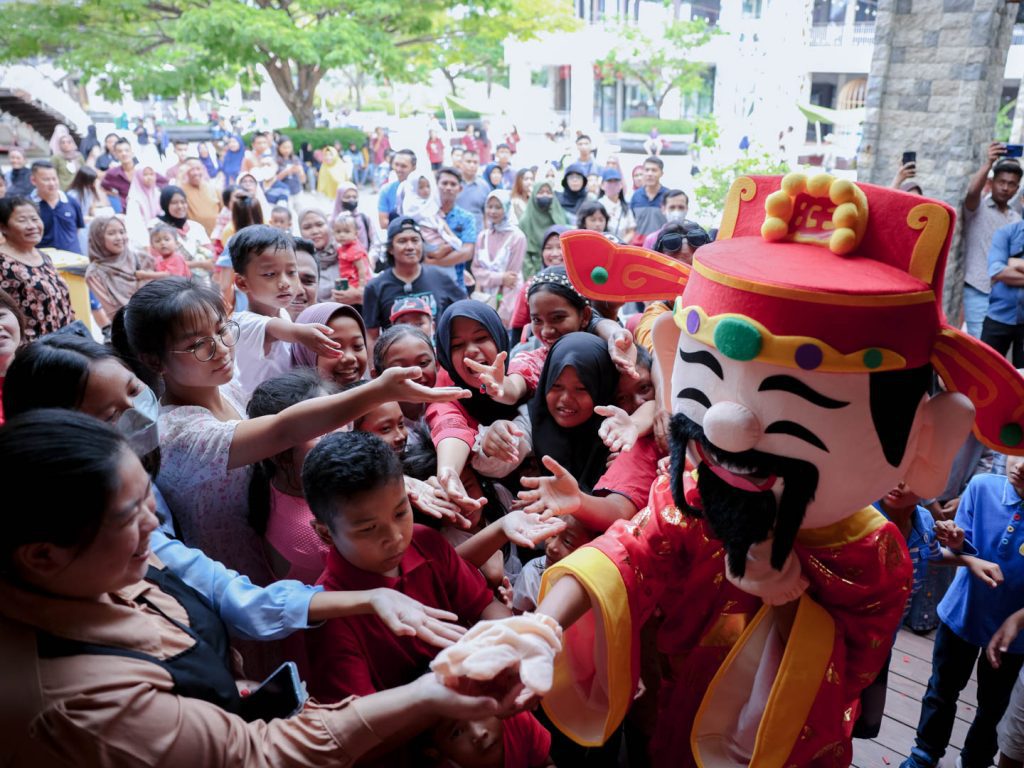 Not only an acrobatic performance that kept you on the edge of your seat, the dancers also performed a traditional blessing ritual where they were fed on lettuce and oranges. Our visitors were also enthusiastic to participate in the chocolate gifting ceremony by the goddess of fortune. The swarming crowds in the middle of the plaza surely has made the event livelier than ever!
Food Stalls, Bazaars and Giveaways
Be Stuffed and energized as our visitors enjoyed an abundance list of food from our diverse stalls and bazaars in Kampung Peranakan, Plaza Lagoi during the whole weekend.
As a representation of the liveliness of Indonesian traditional markets, the food stalls and bazaar have served hundreds–if not thousands, of visitors from food across Indonesia or internationally.
From the all-time favourite Local delicacies such as fruit salad with sweetened peanut sauce ('Rujak') and traditional meatball soup ('Bakso') to international ones like Burger and Hainan Chicken Rice, we have everything under cover for all the foodies!
We have also kept the visitors hydrated with various stalls filled with a bunch of fresh drinks booths such as Ice Cream, tropical drinks, milk-tea variations, to soft drinks!
What is more, we also prepared 20+ food and beverages giveaways for our visitors so they can taste different types of food simultaneously!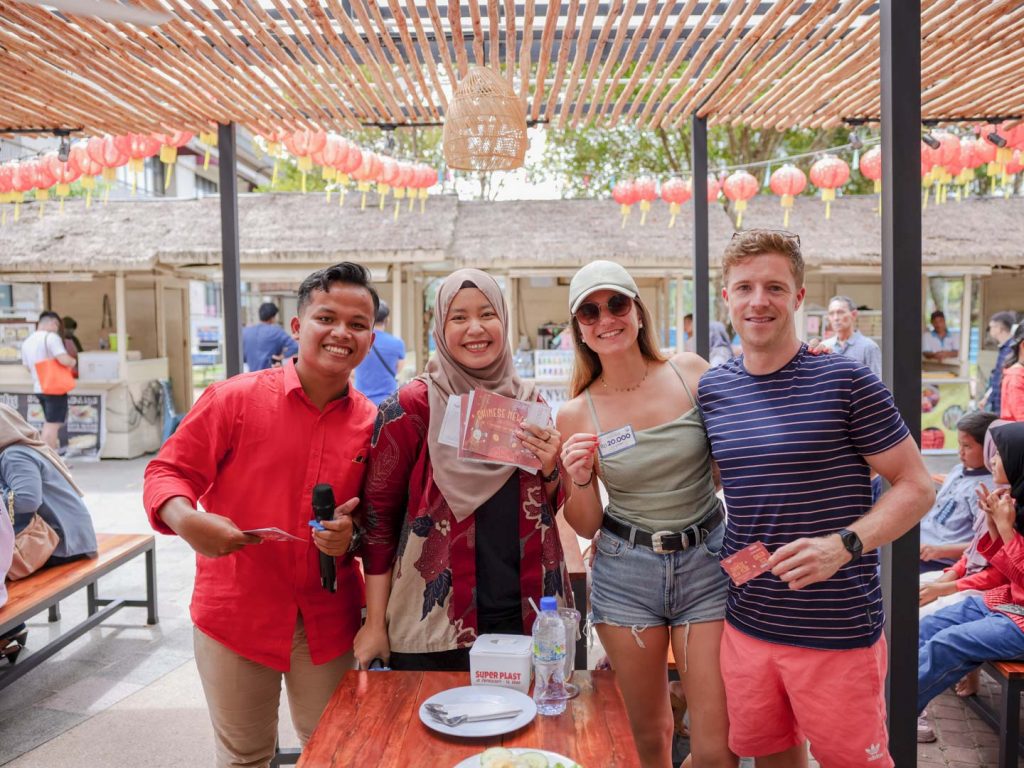 We didn't just stop there, Indulge in rich Indonesian culture as the traditional items bazaar offers you a whole new style of fashion, decoration, and many more! Distributed from local artisans, the items displayed here were surely authentic and one of a kind!
This marks the successful CNY 2023 event held by Bintan Resorts event organizer.